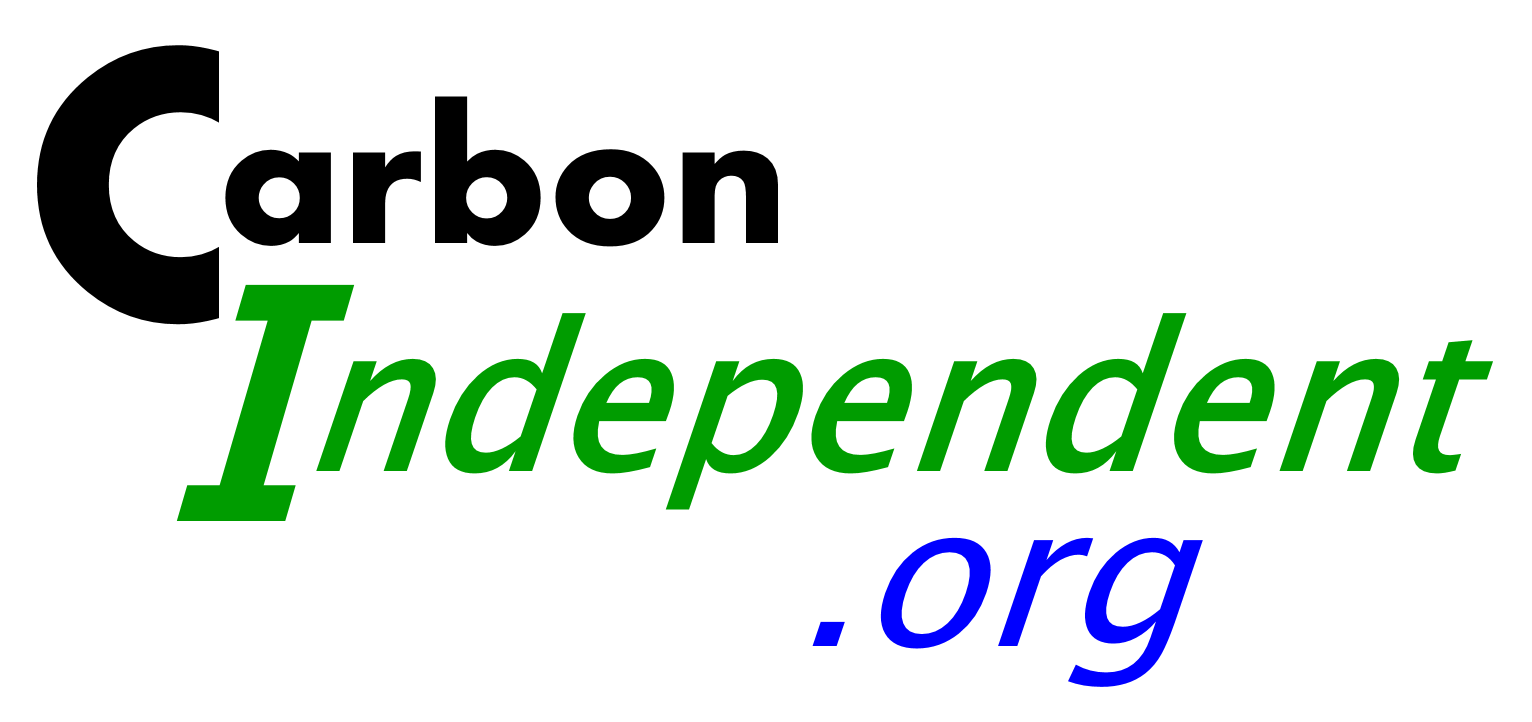 Climate urgency denial
What is climate urgency denial?
Acceptance that
climate change is happening
it is principally caused by human activity
a change to low-carbon living is essential
but acting as if there is no extreme urgency for radical change.
How urgently is climate action actually needed?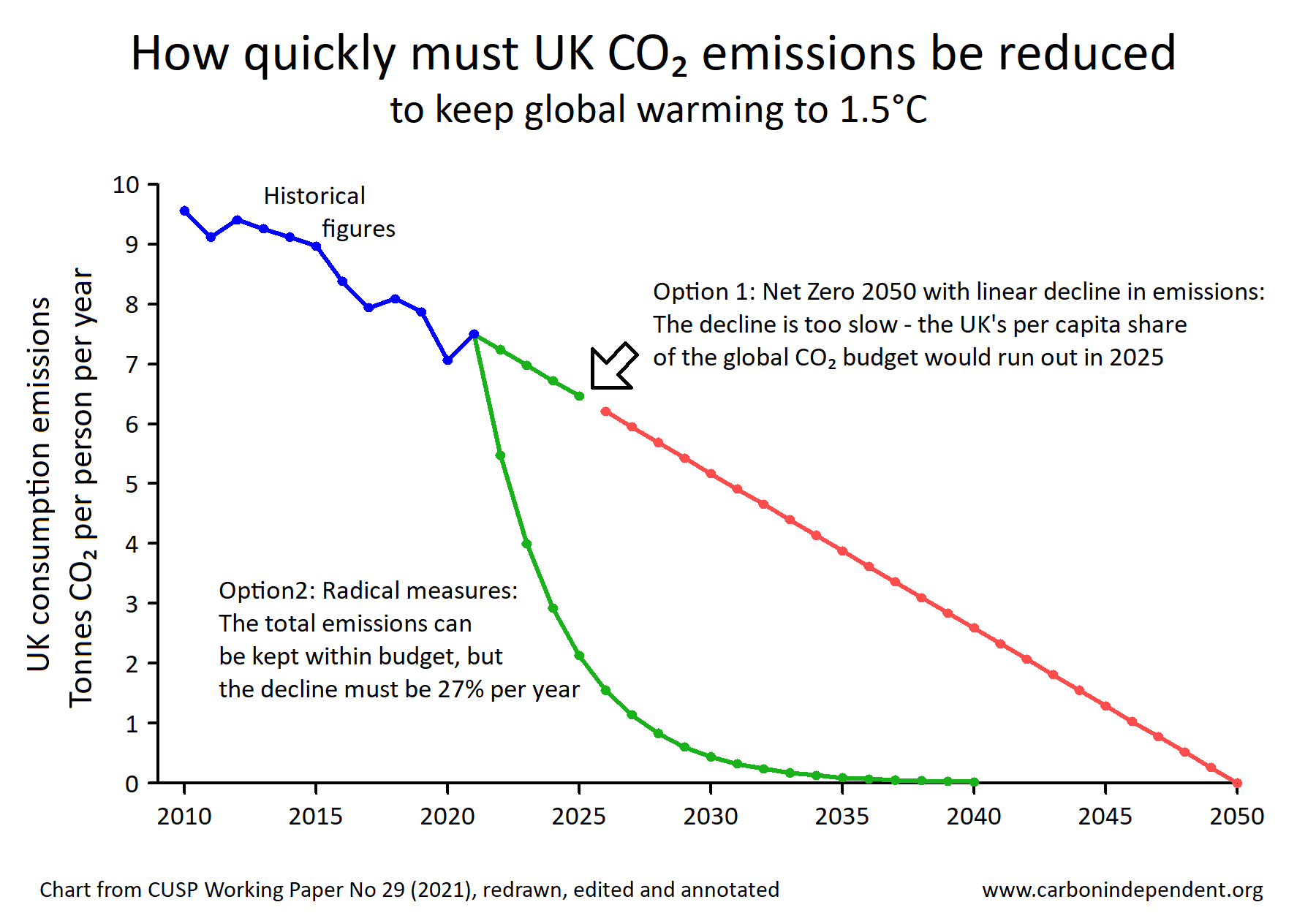 Radical change is needed over the next few years by high-polluting countries such as the UK if they are to meet their commitments to limiting global warming to 1.5°C. The basis for this is as follows.
The IPCC SR15 report of 2018 found that "limiting global warming to 1.5°C would require 'rapid and far-reaching' transitions in land, energy, industry, buildings, transport, and cities. Global net human-caused emissions of CO2 would need to fall by about 45 percent from 2010 levels by 2030, reaching 'net zero' around 2050." [1]
The Paris Agreement of 2015 specifies that developed countries will have a proportionally higher reduction in emissions, and states repeatedly that decisions will be taken according to 'the principle of equity' [2].
In 2019, the Tyndall Centre (Manchester University) produced reports for each UK local authority for an emission reduction strategy on the basis of the UK having a fair share of the residual global carbon budget for 1.5°C [3]. Typically, the local budgets were due to run out in 7 years, with annual cuts of 13% being needed to stay within budget.
A 2021 report from Surrey University [4] showed that the UK's per capita share of the residual global carbon budget runs out at the end of 2024 at current emission rates (see chart), requiring emission cuts of 27% per year to stay within budget. Other high-polluting countries have a similar short timescale for action to stay within their commitments.
At the launch of the latest IPCC report (April 2022), United Nations Secretary-General António Guterres accused governments of lying, and said that there is a need to create a grassroots movement that cannot be ignored [5]. Some key quotes are

"This is a climate emergency."
"Some government and business leaders are saying one thing – but doing another. Simply put, they are lying."
"Climate promises and plans must be turned into reality and action, now."
The picture is one of warnings from scientists being ignored by governments and the rest of society, with the situation becoming more and more urgent.
What is being said instead?
There is a great emphasis on the "2050" of "Net Zero 2050", as if major change can be delayed for years or decades.
Some repeat the "45% reduction in emissions by 2030" as if it is appropriate for the developed high-polluting countries - but this 45% is the required reduction in total global emissions and the Paris Agreement includes commitments to global equity, and for deveoped countries to reduce emissions faster than the global average [2].
Who is denying climate urgency?
Almost everyone:
politicians
industry
media
campaiging organisations, including many climate campaigners e.g. Friends of the Earth
What are the causes?
lack of awareness
deliberate deceit
prevarication
self-censoring [6]
groupthink and other cognitive biases
a reluctance of campaigners to criticise other campaigners who might be judged "on the same side"
What are the consequences?
contradiction and undermining of the messages from the IPCC for urgent radical change and those (currently few) campaigners who are telling the truth
minimal climate action
the UK and other high-polluting countries are at high risk of exceeding their per capita share of the residual carbon budget (but are not saying so), and then will either (a) be contributing to the world missing the 1.5°C target, or (b) taking other countries' shares of the residual carbon budget
the UK and other high-polluting countries will continue to cause climate deaths, climate refugees, and other suffering and environmental damage on an enormous scale
How should we combat climate urgency denial?
tell the truth, the whole truth, and nothing but the truth
challenge the fallacies (politely) - ask people why they are ignoring the climate emergency and contradicting the IPCC
360° feedback: we should all be willing to give feedback to others and accept feedback from others
challenge malpractice
possibly a checklist of (a) facts that shoud not be contradicted, together with (b) fallacies that should not be repeated
Who is telling the truth?
United Nations Secretary-General António Guterres [5]
Prof Kevin Anderson, University of Manchester [6]
Prof Tim Jackson, University of Surry [4]
Extinction Rebellion in its second demand ("Every part of society must act now to reduce greenhouse gas emissions to net zero by 2025...") [7]
Is all this really true?
To someone coming across the material on this page for the first time, it may sound hard to believe, but the facts can be easily checked by following the links.
References
First published: 27 Jun 2022
Last updated: 20 Jul 2022